SkyGen
Jump to navigation
Jump to search
SkyGen is a skymap generator tool to be used with DazStudio to create HDR latitude/longitude maps for use in IBL and reflection mapping. SkyGen is not a set of preset sky maps but rather a tool to let you create a sky with an interactive interface. Place your sun based on time and location and given "haze"--The possibilities are limitless.
SkyGen is intended to be used with UberEnvironment light shader to provide image based lighting. The generated maps can also be used with HumanSurface as reflection maps.
User Guide
Installation
After installation, you will find SkyGen in the DAZ Studio 'Scripts' folder. In order to launch SkyGen, simply double-click on the icon.
User Interface
Procedurally create a skymap that represents the sun's position based on Location and Time. Change the Location, Time, Month and Haze values to see the preview image instantly update.
Location

Location you are viewing the sun from. Options are: Los Angeles, New York, London, Paris, Moscow, Tokyo, Sydney, and Rio de Janeiro.

Time

Time of day; 18 = 6pm.

Month

The Month of the year.

Haze

Haziness or turbidity; A value 0 for a clear day, 10 will give a very hazy skylight.
Saving files
Once you are happy with the preview image, click the Save... button. You will then be presented with a file dialog where can can specify the file save location.
Using the image with UberEnvironment
Once you have saved out your skymap .tif file from SkyGen, you can then use it to create IBL effects in UberEnvironment. Simply use the map as a __Color__ map in UberEnvironment.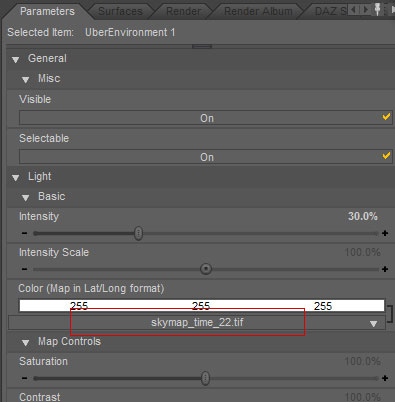 Technical Info
SkyGen uses the 3Delight tdlmake to create an image optimized for the 3Delight renderer. Although the generated image has a __.tif__ extension, it is really in the __tdl__ format. This format is a 32bit image and can be viewed in some editors like Photoshop CS3+.
Version Info
SkyGen should be compatible with DazStudio versions 2.3.3.131 and above.
Updates
June2009 - Added the ability to save out jpgs as well as tifs. Only available in the DAZStudio 3 updater.